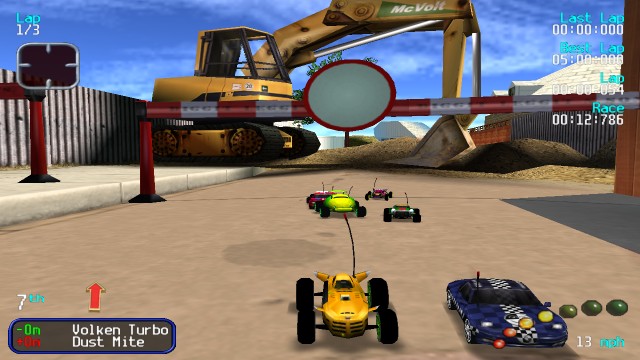 Alternative || rifaiy.googlecode.com/files/Re-Volt__Rifaiy.rar
Re-Volt is a radio control racing game published by Acclaim Entertainment in 1999. Re-Volt appeared on various consoles, namely: PC, PlayStation, Nintendo 64, and Sega Dreamcast. Re-Volt has a prequel, the RC Revenge, published on the Playstation, and RC Revenge Pro, which was published on PlayStaion 2. Acclaim Entertainment has gone bankrupt, and later bought by Throwback Entertainment. Throwback has announced that a new version of Re-Volt was in progress.
Re-Volt is a great game at that time, because it has a realistic car control. Re-Volt provides 28 car (standard) and 14 tracks including a stunt arena.
The cars in this game has two types of machines, namely:
Electric: electrical machinery
Glow: gasoline engine, which sound like mosquito fogging equipment
In addition, these cars are divided into five classes, namely: Amateur, Rookie, Advanced, Semi-Pro, and Pro. So also with the track, the track is divided into four difficulty, namely: Easy, Medium, Hard, and Extreme. Objekif game that won the match on the track that has been available in any way. In each trajectory spread lightning-shaped icon, which contains a random weapon, such as oil until firecrackers.
How to Install:
Extract results downloadan Volt-Re.rar,
Run installer.exe is in the uninstall folder that has been extracted from the file Volt-Re.rar,
After the install is complete do not jump on the play. updates go to the folder and go back into the folder and run the update to 0916 rvpatch110.exe and click unzip then click close,
After it came out of the folder update to 0916 and into 1207 and the update folder to copy all the files in the folder updates to 1207 to the folder where you install the game, example: C: \ Program Files \ BoontyGames